Research Themes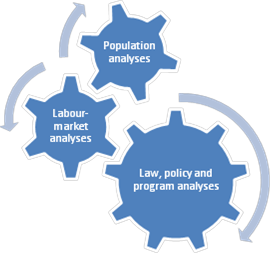 Research in our Population analysis theme focuses on population characteristics. Who are the work disabled and what is their condition?
The Labour-market analysis theme investigates the job market as well as skills development opportunities and the role of employers in creating conditions that support employment of people facing work disability.
Our Law, policy and program analysis theme considers policy analysis at the provincial and federal level to better understand within and across-program barriers and opportunities in relation to income and employment support. This theme includes comparative analyses of legislation across provinces, international comparisons of work disability policy and studies of successful programs in other countries.