CRWDP Early Career Researcher
Spotlight
A number of early career researchers have been part of the Centre for Research on Work Disability Policy (CRWDP). Our early career researchers have prospered from the learning opportunities and funding provided by our Centre and are making important contributions to knowledge and practice. Many CRWDP early career researchers have gone on to higher education and reputable research positions. We are pleased to highlight and feature their work, accomplishments and visions for the future.
Meet CRWDP early career researcher Pamela Lahey, PhD!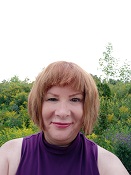 Research Advisor, Employment and Social Development Canada, and Assistant Professor at McMaster University​
1. What is your educational background?
I have an Hons BA in English Literature from The University of Guelph; a Master's degree (MAES) focused on local economic development from the University of Waterloo, and a PhD from McMaster University in Rehabilitation Science. I also took an independent policy program taught by John Stapleton. In between degrees, I took a small business development program from Conestoga College.
2. What has been your career experience to date? Provide highlights of research undertaken, positions held, activities undertaken and areas of interest that you have been involved in during and following your time with CRWDP.
My interest is in policy research and working to include persons with lived experience of disabilities – really, lived experience of any marginalized service user – at the beginning of the research and policy development stages. While my English literature degree helped fortify my writing skills and served as a solid foundation for further academic pursuits, it was my Master's program that helped solidify these goals. I have been quite fortunate in having excellent teachers and mentors throughout my academic journey that have supported me, while challenging my thinking and helping to foster the skills needed for analytical thought, resulting in a methodical and strategic approach to my research. Having spent decades in non-profit and advocacy roles, I entered into my PhD with a continued passion to fill the research gaps in the area of work disability policy. My supervisor and supervisory committee gave me the freedom to ask the questions that are often not given the needed attention (empirically or otherwise) and championed my desire to explore alternative approaches to answer these questions. I became a student fellow of CRWDP in 2014. Having the support and guidance of CRWDP staff and members enriched my learning experience in immeasurable ways. My PhD work resulted in four papers: three have since been published and one is currently in review. Each paper uses a different methodology to examine the issue of income and employment security for people with disabilities in Canada's social and economic structures. My latest (co-authored) publication can be found in the Journal of Work Disability Policy and is entitled: The Ontario Disability Support Program Work Exit Process: Parallels to a Hostage Negotiation (2020). Post-PhD, I worked for a short time with CRWDP and then in 2019 I accepted a position with the Government of Canada. I am a research advisor with Employment and Social Development Canada. In this capacity, I continue to work on behalf of persons with disabilities, striving to ensure that evidence-based research is considered in policy development. For the first time, I am working from inside to inform change. If I were to look back on my journey, I would say it has been non-linear, but I had to take every step I did to get where I am today.
3. How has being part of the broader CRWDP research community supported and enhanced your work and success?
Being a part of CRWDP has been a rewarding experience. CRWDP has played a central role in my academic and professional successes. From the practical aspects (providing funding to bridge me to my second year and the three year SSHRC grant I was awarded) to the less tangible (opportunities to exchange ideas and collaborate with like-minded researchers) CRWDP has been there for me. Through CRWDP events, I have honed my presentation skills, made friends, and expanded my professional network. In fact, it was at one of the CRWDP conferences, that I connected with a government researcher who facilitated my entry into ESDC and is now my colleague.
4. In what ways do you envision your work improving society or reaching people?
I don't want to sound maudlin, but … I hope my work inspires new ways of doing. I hope meaningful consultations mean the involvement of lived experiences voices at conceptualization not just implementation. I hope that we realize as a society that everyone deserves the same standard of living, and equitable access to income, employment, and other necessities to enjoy life. My vision is that our collective work makes a difference, even if only one person at a time. As the saying goes "tools are no use if you don't ever open your toolkit." So, I am a big proponent of knowledge sharing.
5. What are your plans/goals for the longer term?
It has taken me many years to get where I am! I am content to remain at the government and affect change from within. I would like to continue learning, collaborating, and publishing. I just recently accepted a part-time faculty appointment at McMaster University. I look forward to imparting what knowledge I can to the next generation of academics. Outside of my professional responsibilities, my long-term goals are to take yoga teacher training to deepen my own practice. My yoga mat is where I rejuvenate so I can continue to make plans and achieve my goals.
Learn how our other CRWDP early career researchers are doing!