Amy Sheppard
Student Fellow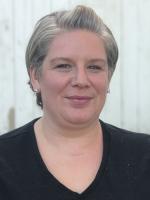 Amy Sheppard is a 1st year sociology PhD student at Memorial University, supervised by Dr. Rose Ricciardelli.  In her research, Amy works with women in prison to examine how mental health, as well as stigma associated with prison impacts employment opportunities. 
In addition to her studies, she works part-time as a registered social worker with Stella's Circle, a nonprofit agency based in St John's, Newfoundland and Labrador where she works with women involved in the criminal justice system. Amy has 9 years of experience working with criminalized women providing group and individual therapeutic interventions as well as helping with accessing concrete supports and referrals to other community agencies. 
Amy has a Masters of Gender Studies degree where her research focused on using dance to explore the impacts of prison on the bodies of women.