Firat Sayin
Co-Investigator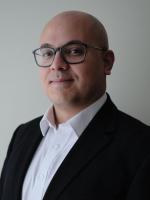 Key Appointments
Dr. Sayin is an assistant professor at Sobey School of Business, Saint Mary's University.
He was a CRWDP student fellow between 2013 and 2018 while pursuing his Ph.D.
Education
Ph.D., Business Administration, McMaster University
M.B.A., Management and Change, Carleton University
B.A., Economics, Boğaziçi University
Areas of expertise
Dr. Sayin's research interests include how disability and immigrant identities, along with others, intersect to shape employment inequalities experienced by people with disabilities. He is also interested in how work disability policies can be improved to address the heterogeneity of employment inequalities experienced by people with disabilities.
Research Activities
Dr. Sayin's research activities are focused on workplace diversity, employment inequalities, and occupational health and safety issues from a multi-level perspective. Specifically, he explores the complex relationships between well-being and employment outcomes of workers with multiple identities at the societal, organizational, and individual levels. His current populations of interest are immigrants, people with disabilities, and personal support workers. He is currently conducting research on flexible employment practices on workers with pain disabilities.
Contact information