Injured Workers Community Legal Clinic (IWC)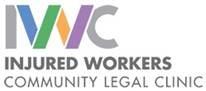 Injured Workers' Consultants (IWC) is a non-profit community legal clinic providing legal advice and representation to injured workers. Works with injured worker and community organizations seeking improvements to the workers' compensation system.
The clinic works with injured workers in the community
Injured worker organizations
Community legal clinics
Labour organizations
The clinic hosts meetings of injured worker support groups and the 'Bright Lights' injured workers who have been meeting at the clinic for education and action for many years.
Many of our activities are done jointly with other injured worker organizations, advocacy groups and unions, including the Ontario Network of Injured Worker Groups (ONIWG), the Canadian Injured Worker Alliance (CIWA), the Toronto Injured Worker Advocacy Group (TIWAG), the Ontario Legal Clinic Workers' Compensation Network. IWC also participates with injured workers, academic and other community organizations in worker-centred research projects.
Toronto Injured Worker Groups
(For further information on these groups contact IWC)
Bright Lights Group
Chinese Injured Worker Group
Women of Inspiration Group
Contact Information
Injured Workers Community Legal Clinic (IWC)
815 Danforth Avenue
Suite 411
Telephone:
416-461-2411
Fax:
416-461-7138
CRWDP Contact:
John McKinnon
CRWDP Contact Email:
https://www.injuredworkersonline.org