Arif Jetha
Collaborator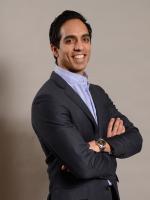 Primary Appointments
Associate Scientist, Institute for Work & Health
Assistant Professor (status-only), Dalla Lana School of Public Health, University of Toronto
Adjunct Assistant Professor, DeGroote School of Business, McMaster University.
Research Program
Dr. Jetha's overarching program of research focuses on examining the nexus between macro and micro level factors in the prevention and management of work disability. He pursues two specific investigative domains that include: a) Understanding life course differences in the employment participation of people living with chronic episodic conditions; and b) Applying systems thinking perspectives to examining the role of organizations in the return-to-work process. Dr. Jetha's research is both transdisciplinary and collaborative, and aims at generating applied evidence that has social impact.
Current CRWDP Research Activities
With support from CRWDP seed funding, Dr. Jetha is currently conducting an analysis of the availability and adequacy of policies and programs that support work integration for young adults with disabilities during the school-to-work transition.
Training
Arif has held post-doctoral fellowships at both the Institute for Work & Health, and Liberty Mutual Research Institute for Safety. In 2013, Arif received a PhD from the Dalla Lana School of Public Health, University of Toronto. Dr. Jetha also holds an MSc from the London School of Economics & Political Science.
Representative Publications
Jetha A, Besen, EB, Smith PM. (2016). Comparing the relationship between age and length of disability across chronic diseases. Journal of Occupational & Environmental Medicine. 58 (5): 485-491.
Jetha A. Pransky GP, Fish J, Hettinger LH. (2016). Return-to-work within a complex and dynamic organizational work disability system. Journal of Occupational Rehabilitation. Epub ahead of print.
Jetha, A. Badley, E.M. Beaton, D.E. Fortin, P.R. Shiff, D. & Gignac, M.A.M. (2015) Unpacking the early work experiences of young adults with rheumatic disease: An examination of absenteeism, job disruptions and productivity loss. Arthritis Care & Research. 67 (9): 1246-1254