Ivan Steenstra
Co-investigator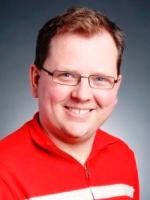 Current appointments
2016 - Manager, Research & Analytics, Morneau Shepell
2015 - Adjunct Scientist, Institute for Work & Health, Toronto, Ontario
2015 - Adjunct Faculty, Faculty of Workplace Health Sciences, Pacific Coast University for Workplace Health Sciences, Port Alberni, British Columbia
2010 - Researcher, Center of Research Expertise for the Prevention of Musculoskeletal Disorders, University of Waterloo, Waterloo, Ontario
Education
Post-Doctorate Diploma, Work Disability Prevention CIHR Strategic Training Program, Canada
Ph.D., Public & Occupational Health, VU University, Amsterdam, The Netherlands
M.Sc., Epidemiology, VU University, Amsterdam, The Netherlands
M.Sc., Human Movement Sciences, University of Groningen, Groningen, The Netherlands
B.A., Education, University of Groningen, Groningen, The Netherlands
Areas of Expertise
Work Disability Prevention
Return-to-Work Management
Low back pain
Intervention research
Prediction
Systematic reviews
Upper extremity disorders
Measurement
Recent Peer-Reviewed Publications
Steenstra IA, Busse JW, Tolusso D, Davilmar A, Lee H,  Furlan AD, Amick III BC, Hogg-Johnson S. Predicting Time on Prolonged Benefits for Injured Workers with Acute Back Pain. 2015 Jun;25(2):267-78. doi: 10.1007/s10926-014-9534-5. (PMID: 25164779) 
Berolo S, Steenstra IA, Amick III BC, Wells RP. A comparison of two methods to assess the usage of mobile hand-held communication devices. Journal of Occupational and Environmental Hygiene. 2015;12(4):276-85. doi: 10.1080/15459624.2014.973111.(PMID: 25436479)
Busse JW, Bruno P, Malik K, Connell G, Torrance D, Ngo T, Kirmayr K, Avrahami D, Riva JJ, Ebrahim S, Struijs P, Brunarski D, Burnie S, LeBlanc F, Coomes EA, Steenstra IA, Slack T, Rodine R, Jim J, Montori V, Guyatt GH. An efficient strategy allowed English-speaking reviewers to identify foreign-language articles eligible for a systematic review". J Clin Epidemiol. 2014 May;67(5):547-53. doi: 10.1016/j.jclinepi.2013.07.022. [Epub 2014 Mar 5.] (PMID: 24613496).
For more publications, please follow the link
Recently Funded Grants
Steenstra IA, Lowe G, McIntosh G, Saunders R, Chappel J, Geary J, White M, Beaton DE, Gignac M, Gross DP, Irvin E, Loisel P,  Pransky G, Puts M, Scott-Marshall H, Tompa E, Van Eerd D, Wilkie R, Cielen B, Thorpe K. A review of the role of aging in return to work and stay at work. CIHR Knowledge Synthesis Grant competition $89,622 (Jan 2014 - Jan 2015).
Steenstra IA, Furlan AD, Amick III BC, Hogg-Johnson S, Busse JW, McIntosh G. Predicting successful return to work in worker on disability due to low back pain. CIHR Operating Grant $322,946 (Sep 2014 - Jan 2018).
Gross DP, Steenstra IA, Shaw  WS, Shaw N, Williams-Whitt K, Niemelainen R, Rupert R,  Woodhouse L. Clinical Decision Support Tools for Managing Disabling Musculoskeletal Disorders. WCB Manitoba $88,085 (Sep 2012 - Aug 2014).
To contact: ivan.steenstra@ryerson.ca
For more information, visit: https://www.iwh.on.ca/researchers/ivan-steenstra