Jeffrey A. Hilgert
Co-investigator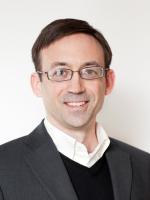 Key Appointments
Professeur adjoint / Assistant Professor, École de relations industrielles / School of Industrial Relations, Université de Montréal, 2011 – .
Co-researcher, Interuniversity Research Center on Globalization and Work / Centre de recherche interuniversitaire sur la mondialisation et le travail (CRIMT), Université de Montréal, 2013 – .
Co-investigator, Centre for Research on Work Disability Policy / Centre de recherche sur les politiques en matière d'invalidité professionnelle (CRWDP), McMaster University, 2014 – .
Education                                                                                                                          
Ph.D.        Industrial and Labor Relations, Cornell University
M.Sc.        Labor Studies, University of Massachusetts Amherst
B.A.          Political Science, University of Minnesota Duluth
Areas of Expertise
Global issues and the transnational governance of workplace health and safety
International labour and human rights (norms, mechanisms, strategies, jurisprudence)
Neo-institutional theory and employment relations theory
Adjudication and dispute resolution in labour and employment relations
Research Activities
Dr. Hilgert's research interests include studying contemporary transnational governance issues related to safety and health at work. He monitors developments in the international labour and human rights systems as well as follows trends in the governance of multi-stakeholder initiatives. He is interested in the design of workplace rights regimes as they relate to health protection and in the global norms on social security, focusing on the human rights of injured workers and the global governance principles and practices recognized on employment injury benefits systems.
Recent publications
Hilgert, J. (2015). The ILO's Safety and Health in Mines Convention: Reframing Obligations for a Sustainable World. Alternatives: Turkish Journal of International Relations, 14:4 (59-69).
Hilgert, J. (2013). Hazard or Hardship: Crafting Global Norms on the Right to Refuse Unsafe Work. Ithaca, London: Cornell University Press, 216 pages, ISBN 9780801451898.
2014 Best Book in Human Rights Award by the American Political Science Association.
Reviewed in Perspectives in Politics by Genevieve LeBaron (13.4:1211-1212), Industrial and Labor Relations Review by Guy Mundlak, (68:242-243), New Solutions Journal by Leslie London, New Solutions Journal, novembre 2014, 449-451, British Journal of Industrial Relations by Michael Quinlan (52.2:392-394), Comparative Labor Law and Policy Journal by Emily Spieler (35.3), Social Forces by Tim Bartley (Feb. 2014), and Labor Studies Journal by Clayton Sinyai (39.1:91-92).
Hilgert, J. (2013). The Future of Workplace Safety and Health as a Human Right. Comparative Labor Law and Policy Journal, 34:3 (715-736).
Hilgert, J. (2012). Building a Human Rights Framework for Workers' Compensation in the United States: Opening the debate on first principles. Am J of Industrial Med, 55:6 (508-518).
Hilgert, J. (2012). Occupational Safety and Health and Human Rights Due Diligence. Public comment submission to the Institute for Business and Human Rights charged with elaborating business human rights guidance in three sectors for the European Commission, July 2012.
Hilgert, J. (2010). Social Justice for Injured Workers: Developing New Strategies for Workers' Compensation in the United States. A report of 40+ in-depth interviews with leading advocates for the National Economic and Social Rights Initiative and the Public Welfare Foundation.
Hilgert, J. (2010). Collective Bargaining as a Human Right: Harmonizing Canadian Norms and International Obligations.  A report of the proceedings of the Sallows Conference on human rights and the freedom of association held at the University of Saskatchewan in February 2010.
Hilgert, J. (2009). Mapping the Boundaries of Human Rights at Work: Questioning How the ILO Defines Labor Rights and Social Justice. Labor Studies Journal, 34:1 (21-38).
Hilgert, J. (2009). A New Frontier in Industrial Relations: Workplace Health and Safety as a Human Right. Chapter 3 in Compa, L. and Gross, J. A. (Eds.) Human Rights in Labor and Employment Relations: International and Domestic Perspectives. Ithaca, London: Cornell University Press, 43-72.
Contact information: