Karin Maiwald
Co-investigator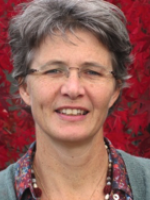 Dr. Maiwald's research interests include Canada's disability and return to work policies. As a member of the Research Department for the Interior Health Authority in BC, an opportunity presents to assist, as well as mentor and supervise undergraduate and graduate students who share an interest in the WDP field. Karin is working with the CRWDP/BC Cluster to help examine vocational rehabilitation in order to address the needs of workers with ill health-related problems and early return-to-work. Respecting relationships and connections between the BC health authorities, an opportunity presents to compare and contrast policy approaches and outcomes.
Earlier in her career, Dr. Maiwald conducted a set of studies that examined the differing perspectives on a provincial/regional disability prevention program, and a detailed evaluation of the implementation of a bipartite Return-to-Work process (part of bipartite policy) in the BC healthcare sector. Dr. Ellen MacEachen played a key role in the final stages of Karin's PhD work when she joined her assessment committee in 2013. Dr. Ellen MacEachen also served as Karin's mentor at the Work Disability Prevention CIHR Strategic Training Program at the Universities of Sherbrooke and Toronto/Dala Lana School of Public Health, respectively.
Dr. Maiwald's second area of research interest in health and participation stems from her 18 years of clinical experience in the private and public sector, and research experience with provincial and regional public health organizations. Karin uses constructive policy theory and social science approaches to study how health, health and social policies, and health and professional education arrangements affect social inclusion of people with disabilities and/or health problems. In her role with the Interior Health Authority, she might contribute to CRWDP activities such as stakeholder engagement committee - and seed grant committee work, as well as create student capacity building opportunities. See more details below.
Research and Related Activities
Interior Health Lead for Research Capacity Building in the healthcare sector: Offers support for researchers, administrators, managers, health providers, and students in designing and conducting health system services research and social, environmental, population health research across Interior Health using a multidisciplinary approach. Lead internal Research Grant funding program.
Interior Health Lead and driving force for ensuring patient and stakeholder engagement in research and enriching a culture of patient-oriented research in Canada (part of the Strategy for Patient- Oriented Research (SPOR) - CIHR). Serve on BC SUPPORT Unit Patient Engagement reference group, as an Interior Health Representative.
Co-facilitates a writing co-op and other research training for healthcare staff. 
Past experiences include teaching undergraduate and graduate courses in health policy and responsive evaluation using problem-based learning.