Mala Naraine
Collaborator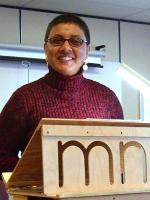 I am a trained researcher with twenty years field experience in applied qualitative research in disability inclusion and social justice issues. In addition to my doctoral research study, I have completed a postdoctoral research fellowship at Ryerson University. I have conducted applied research for public sector and human rights organizations such as Toronto District School Board and Amnesty International, where I was the principle investigator or co-investigator for both academic and applied research projects. In these positions, I conducted literature reviews, document analysis, and systemic policy reviews; wrote two human rights policies; facilitated over forty focus groups; conducted thirty semi-structured individual interviews; collected and analyzed data; and wrote and published four academic articles and three research reports. I also presented four conference papers at academic and community conferences. I bring to the role of researcher an additional unique quality which is my own lived experience with marginalization and accessing higher education as a person who is blind.
Research Interests
To conduct further applied qualitative research on barriers to social inclusion, inclusion in education, and employment for persons with disabilities
To develop advanced analytical skills in applied qualitative research and policy, especially related to best practices, strategies, and resources for enhancing inclusion and employment of persons with disabilities
Academic and Applied Research
Published three academic research articles in peer-reviewed journals during postdoctoral fellowship at Ryerson University supervised by Dr. Deborah Fels
Investigated, researched, and produced two reports for the Gap Analysis Community Research study in East Toronto and York regions for the Toronto District School Board
Prepared a proposal for the Research Ethics Board, University of Toronto (Dr. David Nussbaum) for a study on Defensive Aggression of Mentally Disordered Violent Offenders: A Qualitative Inquiry
Examined and conducted research on the aesthetics of blindness at the University of Toronto (Dr. John Kennedy)
Designed and conducted an evaluative research study on university teaching for Pre-service and Master of Teaching students at University of Toronto (OISE/UT) supervised by Dr. Michel Ferrari for a Graduate Assistantship
Researched and produced a literature review on employment barriers for persons who are blind for a funding proposal for BALANCE For Blind Adults
Researched and produced guidelines for job accommodation for employees with disabilities for the Workplace Safety and Insurance Board.
Publications
Naraine, Mala D. and Fels, Deborah I. (2013) The importance of 'strategic chat time' for people who are blind or low vision. British Journal of Visual Impairment Volume 31 Issue 3, September 2013, 208-16.
Naraine, Mala D. and Lindsay, Peter H. (2011) Social Inclusion of Employees who are Blind or Low Vision. Disability and Society. Volume 20 number 4, June.
Fels, Deborah I. and Naraine, Mala. D. (2011) When Audio Description Came to Town: A Longitudinal Study. (Conference paper). Festival of International Conferences on Caregiving, Disability, Aging and Technology.
Understanding of Disability Legislation
I have working knowledge of the Ontario Human Rights Code and the amendment on the Policy and Guidelines on Disability and the Duty to Accommodate (2000). I have knowledge of the Accessibility for Ontarians with Disabilities Act. During my doctoral program, I audited Professor Denise Réaume's course on discrimination law at the Faculty of Law at the University of Toronto. During my postdoctoral fellowship, I audited a course on the AODA (Making Ontario Accessible).  I also have working knowledge of the Employment Equity Act and the Abella (1984) Report on Equity in Employment.
Education
Doctor of Education (2005) Ontario Institute for Studies in Education, University of Toronto. (OISE/UT) Department of Human Development and Applied Psychology.
Dissertation Title: "Lived Workplace Experiences of Employees who are Blind or Visually Impaired: A Qualitative Analysis."  Thesis passed 'as is', with no corrections required.
Master of Education (1991) OISE/UT, Department of Adult Education.
Concentration: Community and Public Education.
Honours Bachelors of Arts (1988) University of Toronto, Major: Philosophy
Employers 
Ryerson University    
Toronto District School Board
University of Toronto/OISE
Ethno-Racial People with Disabilities Coalition of Ontario (EDRCO)
Trent University         
Workplace Safety and Insurance Board                                
Community Building
Volunteer/Ombudsperson with Amnesty International Canada                2000–2002
Country Coordinator for Turkey with Amnesty International Canada       1998–present
Strategic Planning Committee (Alliance for Equality of Blind Canadians)   2013–2014
Alliance for Equality of Blind Canadians                                                2011–present
BALANCE for Blind Adults (Board of Directors)                                        2008–2010
Fair Vote Canada (Toronto Chapter Executive)                                         2005–2007
Contact information: