Ololade Animashaun
Student Fellow (2016-2017)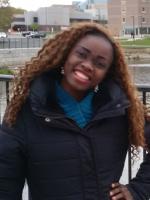 Ololade Adedoyin Animashaun is a Masters student at Memorial University. Her supervisor is CRWDP co-investigator Dr. Gordon Cooke. Her thesis research is focused on investigating the employment experiences of persons with disabilities in urban/suburban Newfoundland – how their location affects their access to social support systems and job opportunities, the barriers to employment opportunities and career advancement that they may face, and how their work/life conditions can be improved to help foster their recruitment, productivity, retention and career advancement in the workforce. Her study aims to contribute to the workplace disability policy field by creating/improving general awareness about the experiences of persons with disabilities and also by proposing/recommending specific, feasible and financially affordable inclusion policies to help improve the work/life conditions of persons with temporary and permanent disabilities as well as injured workers. She is interested in persons with varying degrees of mental and physical disabilities and the extent to which the severity of their disabilities might affect their easy access to obtaining gainful employment.
While at Seneca College, Ololade studied HR Management and had the opportunity to work on some research projects on diversity management and inclusion in the workplace. She also had some involvement with worksite wellness programs focused on persons with disabilities, which triggered her interest to further her studies in this area. She strongly believes that persons with disabilities are an overlooked talent pool, and more attention should be paid to how their diverse skills might be better utilized in today's labour market. Her favourite saying is there is ability in every disability.
Ololade's eventual career goal is to serve as an HR policy analyst and consultant in the area of disability research and occupational health and safety.  She hopes to be able to disseminate new findings and knowledge on these topics at a global level.
She also has a Bachelor of Technology degree in Computer Science from the Federal University of Technology, Akure, Nigeria; a diploma in Computer Technology from Obafemi Awolowo University, Ile-Ife, Nigeria, and a post-graduate degree in International Business Management from Seneca College of Applied Arts and Technology in Toronto.