Rose Ricciardelli
Co-Investigator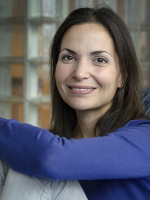 Key Appointments
Assistant Professor, Faculty of Arts, Department of Sociology, Memorial University

Coordinator for Criminology, Memorial University

Affiliate Scientist, Toronto Rehabilitation Institute, Institute of Biomaterials & Biomedical Engineering Intelligent Assistive Technology and Systems Laboratory, University of Toronto

Adjunct Professor, Faculty of Social Science and Humanities, University of Ontario Institute of Technology
Education
PhD in Sociology from McMaster University, awarded in fall of 2009, where she studied masculinity and social health with a focus on body modification

Previous degrees from Western University (2003, 2002)
Areas of Expertise
Dr. Ricciardelli's research is centered on social health and gender, specifically masculinities. Her primary research interests include evolving understandings of gender, and experiences and issues within different facets of the criminal justice system. Specific to disability policy and practice, her current work includes a focus on the experiences of correctional officers given the high stress, high risk, and potential for compromised psychological, physical and social health inherent to the occupation.
Research Activities
Mixed methods approaches to studying the relationship between body and self as well as motivators and experiences of body modification (cosmetic surgery) for aesthetic purposes among men

Surveying of police and former prisoners

In-depth semi-structured interviews with former prisoners, correctional officers, and police officers

Focus groups with police and youth
Dr. Ricciardelli has published in a range of academic journals including: British Journal of Criminology, Theoretical Criminology, Sex Roles, Criminal Justice Review, Canadian Review of Sociology, Canadian Journal of Sociology, Journal of Crime and Justice, Journal of Gender Studies, The Prison Journal, and Journal of Criminal Justice Education. Her first book, released in the spring of 2014, entitled 'Surviving Incarceration: Inside Canadian Prisons' explores the realities of penal living for federally incarcerated men in Canada. She also has an edited collection being released in 2014 that looks at imprisonment globally. Ricciardelli is involved in a social enterprise project tied to Klink Coffee and works in partnership with the RCMP.
Her current research looks at prison culture, desistance, and the coping strategies, risk perception and lived experiences of prisoners, correctional officers and police officers. To this end, she has started to examine healthcare experiences among federal prisoners and also the mental health needs of correctional officers—and how such needs are met or fail to be met. She also is involved in strategies to create positive change for persons post-incarceration as exemplified in her work with Klink Coffee and other charitable organizations. She is particularly interested in the translation of empirical evidence into policy.
 
Current Research
Primary Investigator, The role of personal factors, penal experiences, community support, and positive case management in former federal prisoners' pathway to desistance or recidivism: The decision to "make good" or remain criminally active, funded by SSHRC IDG

Primary Investigator, Creating 'best practice' for policing youth: Discovering, re-evaluating, re-shaping and reviving hope for youth desistance through changing relational dynamics between youth and police, a bottom-up and top-down process, in partnership with the RCMP B Division, with other partnerships in development

Co-Investigator, Toward developing an assistive technology framework for older adults with dementia: A user-centred design approach, funded by Alzheimer Society of Canada

Primary Investigator, Looking at experiences of risk and masculinity among corrections officers (previously funded)
Contact Information