Sara Lacarte
Student Fellow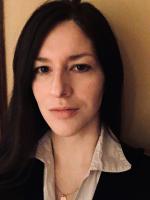 Sara Lacarte is a PhD student in the Social and Behavioural Health Sciences Division in the Dalla Lana School of Public Health at the University of Toronto. Sara's dissertation research aims to co-develop a workplace mental health framework in the building and trades industry in Ontario. She is supervised by Dr. Emile Tompa, Director of the CRWDP.
At the CRWDP, Sara is working with Dr. Tompa, and a team of experts, in designing an evidence-based toolkit to assist the Canadian financial sector in becoming disability confident across all aspects pertaining to hiring and employing people with disabilities.
She is also an affiliated investigator with the Northern Initiative for Social Action (NISA) where she assists in the development and evaluation of an occupation-based, peer-led, mental health program in Northern Ontario, and conducting research on the role of peer support workers in mental health services.
Sara has eight years of research experience in academic and government settings. Her undergraduate and graduate degrees are in the field of sociology with concentrations in work and health.
Please visit her profile on ResearchGate for a list of publications.