Shannon Dinan
Postdoctoral Fellow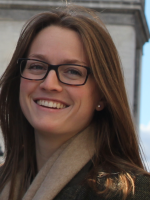 Shannon holds a doctorate in political science from the University of Montreal. Her research interests include comparative public policy and the welfare state. She is notably the recipient of the Doctoral Fellowship from the Social Sciences and Humanities Research Council and the CORIM Prize from the Montréal Council on Foreign Relations. Her thesis, Youth Employment Incentives: Activation Policy in Denmark, France and the United Kingdom (2008 and 2016), analyzes how welfare states have modified their active social policies for youth since the financial crisis. As part of her doctoral research, she was a student fellow at the Centre d'études européennes et de politique comparée at Science Po Paris, the Department of Business and Politics and the Copenhagen Business School and the Policy Network in London.
Education
PhD Political Science, Université de Montréal
MSc International Studies, Université de Montréal
BA Public Affaires and International Relations, Université Laval
Publications:
Dinan, Shannon. 2019. "A Typology of Activation Incentives." Social Policy & Administration. Vol. 53(1): 1-15.
Dinan, Shannon. 2016. "The Slow Road to the Social Investment Perspective in the European Union". Review of European and Russian Affairs. Vol. 10(1).