BC Building Trades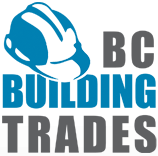 The BC Building Trades Council is an umbrella organization for construction unions in the province of British Columbia. There are 12 unions affiliated to the BC Building Trades including, Labourers Union, Operating Engineers, Painters, Teamsters, Electricians, Bricklayers, Ironworkers, Sheet Metal Workers, Insulators, Cement Masons, Plumbers and Culinary Workers. There are over 35,000 highly skilled, unionized construction workers in B.C.
The BC Building Trades Council was established in 1967. The Building Trades unions in BC have a long history. Organizations uniting the BC construction trade unions have existed under various banners and date back to the late 19th century. The BC Building Trades is governed by its membership. The convention is the supreme body within the organization.
Today's Building and Construction Trades affiliates are active in construction and other industries around the province. Building Trade unions are most successful in the Industrial/Commercial/Institutional (ICI), Road Building, Pipeline, Bridge, Utility and Hydro Dam sectors.
The Future
Skills shortages are a serious obstacle to future economic development. The BC Building Trades unions are proud of their record in apprenticeship and training programs for those interested in pursuing a career in construction. Many of the Building Trades affiliates fund their own training schools and facilities, and, all affiliates work closely with employers to expand quality training opportunities.
Employment equity has been a major preoccupation for building trades unions in recent years. In conjunction with employers, they have been able to increase employment of non-traditional sectors of our society. As an example, the recruitment of unprecedented numbers of women and First Nations workers took place during the construction of the Island Highway. The building trades are committed to increase the participation of non-traditional workers in the industry in the years ahead.
Contact Information
BC Building Trades Council
New Westminster
,
BC
V3M 6H8
Telephone:
778-397-2220
Fax:
778-397-2250
CRWDP Contact:
Lee Loftus
http://www.bcbuildingtrades.org/