Institute for Work and Health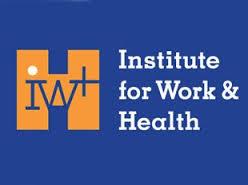 What we do
The Institute for Work & Health (IWH) is an independent, not-for-profit research organization. The Institute has been described as one of the top five occupational health and safety research centres in the world.
At IWH, our goal is to protect and improve the health of working people by providing useful, relevant research. We conduct and share research with policy-makers, workers and workplaces, clinicians and health & safety professionals.
Our research is driven by two broad goals. The first is to protect healthy workers by studying the prevention of work-related injury and illness. This type of research includes studies of workplace programs, prevention policies and the health of workers at a population level. The second is to improve the health and recovery of injured workers. This includes research on treatment, return to work, disability prevention and management, and compensation policies. Read more about our work in our Activity Plan.
The Institute's work environment is unique. Scientists from different disciplines work collaboratively with each other and with our knowledge transfer and exchange staff. We also work closely with our external partners to help ensure our research has value in real-world settings.
Scientists, students and policy-makers from around the world come to the Institute on a regular basis to collaborate, learn and consult with us.
How we operate
As of 2013, the Institute operates with core funding from the Province of Ontario. The stewardship of this funding lies with the Ontario Ministry of Labour (MOL). Previously, the Institute operated with core funding support from the Workplace Safety and Insurance Board (WSIB).
The Institute has an arm's-length relationship with the MOL, as it did previously with the WSIB. Although the core funder approves a general budget plan, the specifics of our research agenda, as well as how we conduct and report on our research, are all determined by IWH independently of our core funder. Three principles included in the preamble to our core funding agreement with the Ministry make this clear. They say IWH will:
focus on research questions aligned to the mandate of the Province and to the protection of the health of workers in the Ontario labour market;
be impartial in relationships with governmental or Crown agencies, employers, workers, clinicians and other interests in the Ontario labour market; and
have independent authority to ensure research is conducted with integrity with respect to the principles of scientific excellence.
In addition to our core funding, IWH scientists are also awarded grants from funding agencies across North America. Among these are Ontario's Research Advisory Council, the Canadian Institutes of Health Research (CIHR), the U.S. National Institute for Occupational Safety and Health (NIOSH) and the Social Sciences and Humanities Research Council of Canada (SSHRC). These grants are awarded through a peer-review process.
IWH's Board of Directors includes senior business, labour and academic leaders. A Scientific Advisory Committee provides guidance on our research activities. Its members are senior researchers in workplace health and safety, clinical treatment, population health, workers' compensation and law.
We consult with the MOL and WSIB on research priorities, and we also consult with (and engage in our research) health and safety associations, employers, unions, clinical practitioners and others. These consultations in no way affect the outcomes of our research; they are undertaken to ensure we are researching questions that matter to Ontario's health and safety system partners.
Our findings are published in peer-reviewed journals to ensure the quality and integrity of our research.
The Institute has formal affiliations with four universities: University of Toronto, University of Waterloo, McMaster University and York University. Our association with universities and our access to workplaces and data sources from WSIB and Statistics Canada have made IWH a respected research and training centre.
Contact Information
Institute for Work & Health
481 University Avenue
Suite 800
General Email:
Telephone:
416-927-2027
Fax:
416-927-4167
CRWDP Contact:
Cameron Mustard
CRWDP Contact Email:
http://www.iwh.on.ca/