McMaster University – Centre for Health Economics and Policy Analysis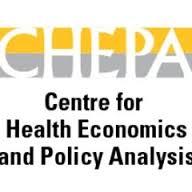 CHEPA is celebrating 25 years of excellence at the forefront of research on health economics and policy analysis, as 2013 marks the silver anniversary of the official opening of the centre on May 26, 1988.
Centre co-founders and health economics and health policy analysis pioneers Greg Stoddart and Jonathan Lomas envisioned building a multidisciplinary centre with research, teaching and service activities that provided timely and relevant evidence to inform policy-making at all levels of the health care system.  CHEPA is now the country's biggest interdisciplinary health research centre, working at the intersection of the health and social sciences.
CHEPA researchers use the tools of economics, sociology, political science and ethics to address issues pertaining to health systems such as: what do we know about the determinants of social inequalities in health? How can we measure and explain inequities in access to health care services? How can we pay providers and manage human resources to achieve higher quality and better outcomes for the money we spend? What are the barriers and facilitators to patient-centred care and shared decision making? What are the best methods for and social implications of health technology assessment? What are the roles of values and ethical considerations in health policy? What can we learn about the system through public and community engagement? How can we support evidence-informed policymaking?
CHEPA ensures the knowledge generated through the work of its members is effectively communicated to health system decision-makers and other stakeholders and that their use of this information is well supported through its highly-regarded knowledge exchange program, which uses multiple strategies for communicating and sharing information.
Contact Information
McMaster University – Centre for Health Economics and Policy Analysis
CRL Building, 282
1280 Main Street West
General Email:
Telephone:
(905)-525-9140 ext. 22122
CRWDP Contact:
Charlotte Yates
CRWDP Contact Email:
http://www.chepa.org