McMaster University – School of Rehabilitation Science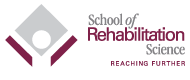 Our excellence in education helps our graduates to become evidence-based practitioners who excel in their profession.
Welcome to the McMaster University School of Rehabilitation Science. Established in 1989, The School of Rehabilitation Science provides exemplary, self-directed, problem-based educational programs, all at the graduate level.
The School has 29 university and 200 clinical and professional faculty and associate faculty members who provide clinical placements, tutoring and teaching.
Small group tutorials consisting of six or seven students and a faculty member provide opportunities to explore clinical cases and professional issues based on the philosophies of the concept known world-wide as the "McMaster Approach".
Through their excellence in problem-based education and collaborative research, the faculty and staff are continually acknowledged for their ongoing contributions to the advancement of Rehabilitation Science and Health Care.
Contact Information
McMaster University – School of Rehabilitation Science
Telephone:
905-525-9140
CRWDP Contact:
Charlotte Yates
CRWDP Contact Email:
http://www.srs-mcmaster.ca